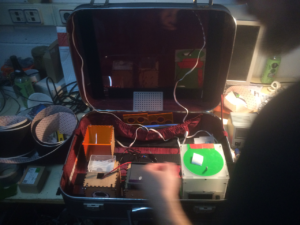 We are biology. Life is fragile and we need to foster its continuity. In order to protect life, it is necessary to detect, track and identify different biological players: antibodies, genes, biomarkers, viruses, bacteria, pathogen microorganisms, etc. They can be located in the food we eat, in the environment we live in, or in contact with us. This area of biology is called microbiology.
There is a need of biological detection in remote areas where there is a lack of access to laboratory equipment or clinical setups. Moreover, the detection must be performed in areas without electricity or internet access, in remote regions in the jungle, desert or forest. Kanchi et al have recently published a review of different detection methods based in cell phones or smart phones in Africa [1]. Mobile electronics are also being used for detection of pathogens in water [2], for spectrometry [3], for lateral flow immunoassays [4], for HIV detection [5], etc. More recently, a micro-lab- on-a- chip has been developed for Zika, Chikungunya and Dengue detection in yet-expensive clinical facilities with bulky and costly equipment [6]. In that sense, Caliendo et al recommend stimulating the research and development in diagnostic techniques [7], which we think should include all different research actors: institutional research centers (academic and industrial research) and community open labs (citizen science). Each of these ecosystems will produce different outputs and will tackle different problems in both hemispheres of the world.
We want to introduce our open source approach which could be used for detection of different maladies.
The kit includes a first section for samples incubation and preparation, then a PCR unit for tagging and amplification, and finally a detection part for direct readout.
The whole kit could operate with a conventional car battery which in turn could be charged by other energy sources (mechanical, wind, solar, hydraulic, etc.).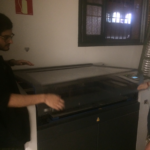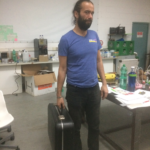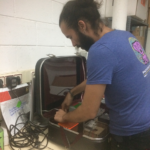 S. Kanchi, M. I. Sabela, P. S. Mdluli, Inamuddin, and K. Bisetty, "Smartphone based bioanalytical and diagnosis applications: A review," Biosens. Bioelectron. 102, 136–149 (2018).
T. F. Wu, Y. C. Chen, W. C. Wang, A. S. Kucknoor, C. J. Lin, Y. H. Lo, C. W. Yao, and I. Lian, "Rapid waterborne pathogen detection with mobile electronics," Sensors (Switzerland) 17, 1–11 (2017).
K. D. Long, E. V. Woodburn, H. M. Le, U. K. Shah, S. S. Lumetta, and B. T. Cunningham, "Multimode smartphone biosensing: the transmission, reflection, and intensity spectral (TRI)-analyzer," Lab Chip (2017).
O. Mudanyali, S. Dimitrov, U. Sikora, S. Padmanabhan, I. Navruz, and A. Ozcan, "Integrated rapid-diagnostic- test reader platform on a cellphone.," Lab Chip 12, 2678–86 (2012).
T. Laksanasopin, T. W. Guo, S. Nayak, A. A. Sridhara, S. Xie, O. O. Olowookere, P. Cadinu, F. Meng, N. H. Chee, J. Kim, C. D. Chin, E. Munyazesa, P. Mugwaneza, A. J. Rai, V. Mugisha, A. R. Castro, D. Steinmiller, V. Linder, J. E. Justman, S. Nsanzimana, and S. K. Sia, "A smartphone dongle for diagnosis of infectious diseases at the point of care," 7, (2015).
A. Ganguli, A. Ornob, H. Yu, G. L. Damhorst, W. Chen, F. Sun, A. Bhuiya, B. T. Cunningham, and R. Bashir, "Hands-free smartphone-based diagnostics for simultaneous detection of Zika, Chikungunya, and Dengue at point-of- care," Biomed. Microdevices 19, 1–13 (2017).
A. M. Caliendo, D. N. Gilbert, C. C. Ginocchio, K. E. Hanson, L. May, T. C. Quinn, F. C. Tenover, D. Alland, A. J. Blaschke, R. A. Bonomo, K. C. Carroll, M. J. Ferraro, L. R. Hirschhorn, W. P. Joseph, T. Karchmer, A. T. MacIntyre, L. B. Reller, and A. F. Jackson, "Better Tests, Better Care: Improved Diagnostics for Infectious Diseases," Clin. Infect. Dis. 57, S139–S170 (2013).